FUJIFILM VisualSonics Inc. receives Commercial Innovation of the Year Award 2016 by WMIS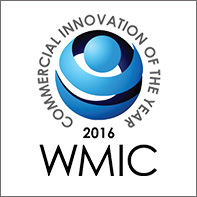 Toronto, Canada, October 1, 2016 – FUJIFILM VisualSonics Inc., a world leader in ultra high frequency ultrasound imaging systems and subsidiary of FUJIFILM SonoSite, Inc., today announced that they have been awarded the Commercial Innovation of the Year award by WMIS (World Molecular Imaging Society).

---
"It really is a testament to the hard work and dedication that our entire team has put in to develop this product. To win this award at WMIC with our first clinically translatable product is very gratifying and we are truly honoured." ~ Andrew Needles, Director, Marketing and Product Management
The Vevo MD allows both clinicians and researchers to image anatomy with resolution and detail never experienced before. For the research community they will be able to utilize a technology in animal models that actually has a direct and powerful application in human studies.

FUJIFILM VisualSonics is set to launch their next innovation, the new LAZR-X hybrid imaging platform; a huge advancement in the area of Photoacoustic Imaging. The new platform will offer numerous improvements as well as expanded preclinical applications and potential clinical applications. Thriving on innovation, FUJIFILM VisualSonics expects to participate as often as possible in this competition in the future.

This award is the result of a very collaborative effort across the organization. FUJIFILM VisualSonics leveraged their unique expertise in the area of ultrasound system and transducer development to design the Vevo MD and UHF Series transducers and then worked closely with clinical experts from their parent organization (FUJIFILM SonoSite) to develop the required test methodology and regulatory pathway to bring the product to the market with clearance for use on humans.
The Vevo MD was conceptualized many years ago, when UHF imaging was first developed. By 2010, when VisualSonics was acquired by SonoSite, there was a real desire to take the preclinical technology into the clinic. Due to competing priorities at the time, the Vevo 3100 preclinical technology was first developed in 2013 and launched in 2014. This really laid the groundwork for the Vevo MD. By late 2014, development of the Vevo MD was in full swing and we were able to launch the product in Europe with a CE mark in January 2016.

About FUJIFILM VisualSonics
FUJIFILM VisualSonics, Inc., is a global leader in real time, in vivo, ultra high frequency ultrasound and photoacoustic imaging systems. With headquarters in Toronto, Canada and offices around the world, FUJIFILM VisualSonics is represented globally across an integrated sales network. FUJIFILM VisualSonics is recognized worldwide for providing cutting edge imaging technologies for the advancement of preclinical research particularly in cardiovascular, oncology, neurobiology and developmental biology areas. With the expansion of the product portfolio to include a new clinical product, FUJIFILM VisualSonics now broadens their range of imaging technologies across both preclinical and clinical markets. FUJIFILM VisualSonics is a subsidiary of FUJIFILM SonoSite, Inc. and a part of FUJIFILM Holdings Corporation. For more information, please go to: www.visualsonics.com.

FUJIFILM SonoSite, Inc. is the innovator and world leader in bedside and point-of-care ultrasound, and an industry leader in ultra high-frequency micro-ultrasound technology. Headquartered near Seattle, the company is represented by 26 subsidiaries and a global distribution network in over 100 countries. SonoSite's portable, compact systems are expanding the use of ultrasound across the clinical spectrum by cost-effectively bringing high-performance ultrasound to the point of patient care. For more information, go to: www.sonosite.com .

FUJIFILM Holdings Corporation, Tokyo, Japan brings continuous innovation and leading-edge products to a broad spectrum of industries, including: healthcare, with medical systems, pharmaceuticals and cosmetics; graphic systems; highly functional materials, such as flat panel display materials; optical devices, such as broadcast and cinema lenses; digital imaging; and document products. These are based on a vast portfolio of chemical, mechanical, optical, electronic, software and production technologies. In the year ended March 31, 2015, the company had global revenues of $20.8 billion, at an exchange rate of 120 yen to the dollar. Fujifilm is committed to environmental stewardship and good corporate citizenship. For more information, please visit: www.fujifilmholdings.com .

All product and company names herein may be trademarks of their registered owners.

CONTACTS:
Lauren Geloso
Fujifilm
(914) 789-8303
lgeloso@fujifilm.com

Andrew Needles
FUJIFILM VisualSonics, Inc.
(416) 522-6462
aneedles@visualsonics.com