Pioneering the Use of Ultra-High Frequency Ultrasound in Medical Research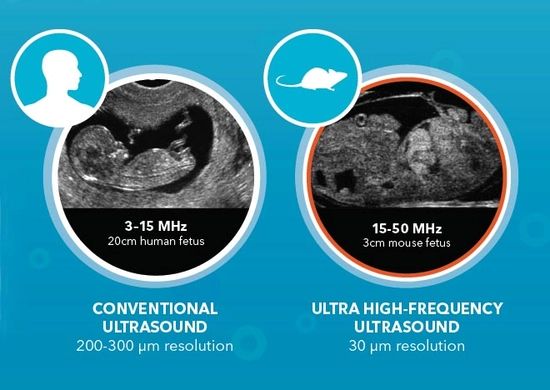 Ultra-High Frequency Ultrasound Technology Now Available for Preclinical and Clinical Use
The Vevo imaging platform was the world's first commercially available ultra-high frequency array-based ultrasound imaging system and has since emerged as the gold standard in small animal anatomical and functional in vivo imaging.
The Vevo family of ultra-high frequency ultrasound imaging systems enable the researcher to obtain in vivo anatomical, functional, physiological and molecular data simultaneously, in real-time and with a resolution down to 30 µm. The systems are easy to use, non-invasive and fast, providing extremely high throughput when needed. 
They are designed with the researcher in mind, with system presets and animal handling tools for fast image acquisition and numerous protocols, software and data management tools optimized for today's scientists.  Learn more about our ultra high frequency ultrasound systems for preclinical and clinical.
How does it work?
Tissues of different densities absorb and reflect sound waves differently resulting in high-resolution grayscale images when the partially reflected sound waves return to the transducer.
Our ultra high frequency ultrsound systems give you high resolution - down to 30 µm while imaging depths up to 3cm at frame rates up to 10,000 fps. 
Get information on: 
Blood flow, localization, and direction
Tissue motion over time
Presence of molecular biomarkers
Anatomy and size of 2D, 3D and 4D regions
Cardiac and Vascular strain
 
Key Benefits of High-Frequency Ultrasound For Your in vivo Research
Non-invasive and non-radioactive
Reduce animal usage by conducting longitudinal studies
Co-registration of anatomical, functional, physiological and molecular data
Real-time detection of anomalies 
In vivo imaging for better translation to the clinic