Our Brand Pillars
Innovation  |  Expertise  | Collaboration  |  Leadership
At Fujifilm VisualSonics, our Brand Pillars define how we do what we do. We are leaders in the industry because we operate with these four pillars as our guide to excellence.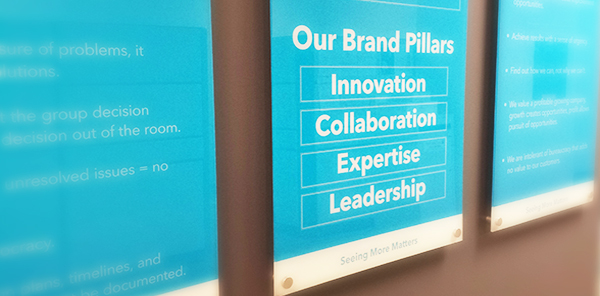 Innovation
Fujifilm VisualSonics has been built on the pillar of Innovation. We originally introduced our Ultra-high Frequency technology in the area of preclinical research, specifically in small animal models of human disease (e.g. mice or rat models). This coincided with the explosion of the human genome project (circa 2000), where numerous genetic models of human disease were developed in small animals. By using high frequency ultrasound, researchers were able to study their live animals in real-time, longitudinally, and with no issues of safety or side effects. After 15 years of continued innovation, Fujifilm VisualSonics recently launched a new ultra high frequency ultrasound system for clinical use. Innovation is at the heart of everything we do. Our customers depend on our ability to research, develop and continuously improve upon our incredible technology.
---
Expertise
We, at Fujifilm VisualSonics, are credited with being the first to bring Ultra-high Frequency ultrasound (micro-ultrasound) for use by medical researchers around the world. We attribute this success to our expertise which allows us to continuously innovate to bring the most cutting-edge technology to our valued customers. We also extend our expertise to support our users to help advance their research by way of sharing our scientific support and continuous education (Learning Hub).
---
Collaboration
Collaboration is at the heart of our business and the key to our success. Our collaborative efforts are not limited to how we work within our organization; we work closely with medical researchers and professionals around the world to help them advance their research. Collaboration with our community of users provides us with valuable feedback on how we can further improve our technology in order to fulfill the future needs of the healthcare community.
---
Leadership
We are the world leader in Ultra-high Frequency ultrasound technology. Our success depends on our ability to maintain our leadership in the niche UHF market. No other ultrasound technology company can match the frequency range of Fujifilm VisualSonics systems (up to 70MHz). We have been able to prove our leadership for use across cardiology, cancer, neurobiology and many more applications for preclinical use. More recently, we have shown leadership by being the first to introduce Ultra High Frequency to the clinical market. We are committed to being leaders in Ultra-high Frequency ultrasound and our drive to remain the leaders motivates us to deliver the best, most innovative products possible.