FUJIFILM VisualSonics Celebrates the First Installation of the Vevo F2 with Photoacoustics
TORONTO, November 26, 2020 –  FUJIFILM VisualSonics Inc., a world leader in ultra-high frequency ultrasound and photoacoustic imaging systems, and subsidiary of FUJIFILM SonoSite, Inc., recently celebrated the first installation of the new Vevo F2 imaging platform with photoacoustics at the Université de Tours, Tours, France, thanks to financial contributions from Région Centre Val de Loire and European Union. The Vevo F2 is the world's first ultra-high to low (71-1 MHz) frequency ultrasound imaging system designed specifically with acoustic researchers and ultrasound engineers in mind.
Equipped with Vevo Advanced Data Acquisition (VADA), the Vevo F2 allows access to pre-beamformed individual channel data via an all new, easy-to-use, graphical user interface. With full control over transmit profiles, researchers now have the power and freedom to develop and explore new imaging methods in a quick, iterative fashion—going beyond existing imaging modes. The Vevo F2 was launched and commercially available earlier this year (May 2020), building on a robust early adopter program of initial sites, globally situated. On November 17, 2020, FUJIFILM VisualSonics staff members were in attendance to witness the ribbon-cutting ceremony celebrating the first on-site installation of the Vevo F2 with photoacoustics at Université de Tours, Tours, France. The Ultrasound lab in Tours is especially interested in utilizing ultrafast Doppler and super-resolution with microbubbles for brain imaging in animal models. Using photoacoustics, their focus will be on molecular neuroimaging with biomarkers and functional neurobiology.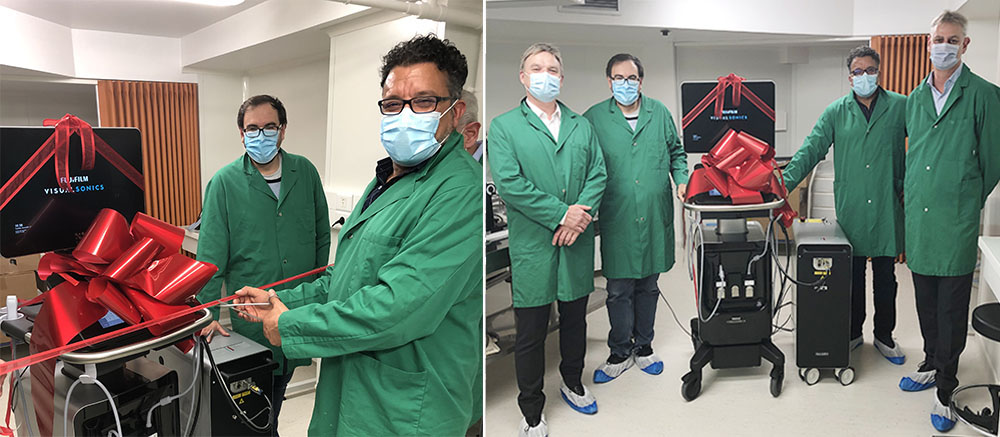 Cutting the Ribbon at Université de Tours, France Left: Jean Michel Escoffre and Ayache Bouakaz. Right: Philippe Davault, Jean Michel Escoffre, Ayache Bouakaz, Philippe Trochet
"The main difficulty we face with current open research platforms is to be able to generate optimal B-mode images in-vivo in real time. Also, Matlab scripts are very difficult or impossible to modify so VADA or the Vevo Advanced Data Acquisition mode will be important for us as it is very easy to use. " shared Ayache Bouakaz.
"The Vevo F2 fills a gap in the tools available to biomedical engineering and acoustic researchers. By providing an integrated and optimized high to low frequency system that leverages an easy to use interface for configuration, our customers can expand both their capabilities and efficiency. Vevo F2 users will also benefit from a worldwide service and support infrastructure," stated Greg Nesbitt, vice president, global high frequency.
The target areas of research using the new Vevo F2 includes implementation of plane-wave techniques for ultrasound imaging for applications such as ultrafast Doppler, super-resolution ultrasound and beamforming algorithm development. The Vevo F2 also allows for synchronization with external devices to coordinate timing between HIFU pulses for imaging, or shear wave generation for elastography measurements.
"The Vevo F2 imaging system is the result of many years of hard work from our product development teams. Combining the best of both high and low frequency ultrasound into a single platform was not without technical challenges, however, our team was able to create a truly remarkable system. Not only does it provide such a large bandwidth, it has the flexibility and access to data required by the ultrasound research community, while still being extremely user-friendly. We look forward to seeing this new technology in the hands of more customers who we know will do amazing things with it," shared Andrew Needles, director, marketing and product management.
The Vevo F2 is available for purchase worldwide.
---
About Fujifilm
FUJIFILM VisualSonics, Inc., is a global leader in real time, in vivo, ultra high frequency ultrasound and photoacoustic imaging systems. With headquarters in Toronto, Canada and offices around the world, FUJIFILM VisualSonics is represented globally across an integrated sales network. FUJIFILM VisualSonics is recognized worldwide for providing cutting edge imaging technologies for the advancement of preclinical research, particularly in cardiovascular, oncology, neurobiology and developmental biology areas. With the expansion of the product portfolio to include a new clinical product, FUJIFILM VisualSonics now broadens their range of imaging technologies across both preclinical and clinical markets. FUJIFILM VisualSonics is a subsidiary of FUJIFILM SonoSite, Inc. and a part of FUJIFILM Holdings Corporation. 
FUJIFILM SonoSite, Inc. is the innovator and world leader in bedside and point-of-care ultrasound, and an industry leader in ultra high-frequency micro-ultrasound technology. Headquartered near Seattle, the company is represented by 26 subsidiaries and a global distribution network in over 100 countries. SonoSite's portable, compact systems are expanding the use of ultrasound across the clinical spectrum by cost-effectively bringing high-performance ultrasound to the point of patient care. For more information, go to: www.sonosite.com.
FUJIFILM Holdings Corporation, Tokyo, Japan, brings cutting edge solutions to a broad range of global industries by leveraging its depth of knowledge and fundamental technologies developed in its relentless pursuit of innovation. Its proprietary core technologies contribute to the various fields including healthcare, graphic systems, highly functional materials, optical devices, digital imaging and document products. These products and services are based on its extensive portfolio of chemical, mechanical, optical, electronic and imaging technologies. For the year ended March 31, 2020, the company had global revenues of $21 billion, at an exchange rate of 109 yen to the dollar. Fujifilm is committed to responsible environmental stewardship and good corporate citizenship. For more information, please visit: www.fujifilmholdings.com. All product and company names herein may be trademarks of their registered owners.